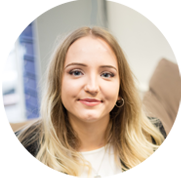 Lauren Chittock
12 month industrial placement
I started my placement year at Media Jems HQ in September 2016 with little more than a marketing internship and some publicity volunteering experience under my belt. Jenna took a chance on me and introduced my inexperienced second year university student self to the world of full-time PR – and I can safely say it was one of the best decisions I ever made.
From day one I was a fully-fledged member of the PR crew and was putting together press releases and sending out pitches in my first week. Jenna knew that I was a keen bean and was happy to give me as much responsibility as I could handle whilst being there to guide me through the world of public relations and teach me an invaluable depth of marketing knowledge that would help me develop in my role and beyond.
I was surrounded by mentors who helped me handle anything and everything that working in PR threw my way and these people soon became close friends. Working at Media Jems was about much more than gaining experience for my degree, it was a sociable and hard-working environment that helped me develop both professionally and personally. Media Jems HQ is a PR family that supports you and helps you build, whilst being there for the difficulties of managing client accounts through to the fun lunches and the team nights out.
I loved it so much that it took a lot more than a year for Jenna to get rid of me! Even now I'm living on the other side of the world (New Zealand) I miss the Media Jems team everyday.
– Lauren Chittock, PR Intern (Placement year student) from Lancaster University